重磅官宣丨2022首屆溫州國際泵閥展定檔11月11-13日移師溫州奧體會展中心舉行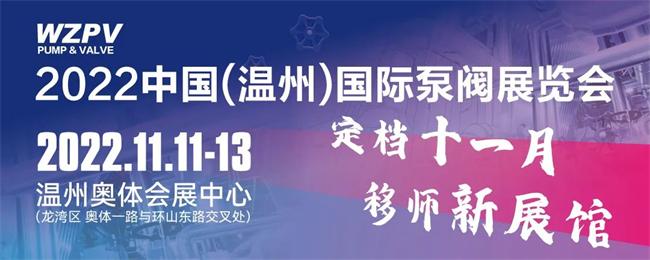 尊敬的參展商、參觀商、合作伙伴:
隨著國內疫情防控形勢趨于穩定,各地大型會展活動逐步恢復,中國(溫州)國際泵閥展覽會的復展工作正在全力加速推進。目前,溫州國際會展中心已改建為臨時方艙,復原時間未定。經組委會與相關部門多方溝通與協調后研究決定:2022首屆中國(溫州)國際泵閥展覽會舉辦時間調整至2022年11月11-13日移師溫州奧體會展中心(溫州市龍灣區奧體一路與環山東路交叉處)舉行,展會同期系列會議論壇活動順移至新檔期舉行。
匯聚中國泵閥之鄉、中國閥門城優質資源,竭力打造行業高品質國際化盛會!組委會將不斷加強新檔期展會的宣傳和推廣力度,持續為參會人員提供全方位、專業化的會展服務,原先已進行展會參觀預登記及報名免費酒店住宿活動的觀眾信息依然有效。展會籌備最新動態,敬請關注官方網站(www.wzpvf.com)、微信公眾號與抖音號(賬號名稱:WZPV溫州國際泵閥展)。
相聚也許遲到,但絕不缺席!期待與您共聚溫州龍灣!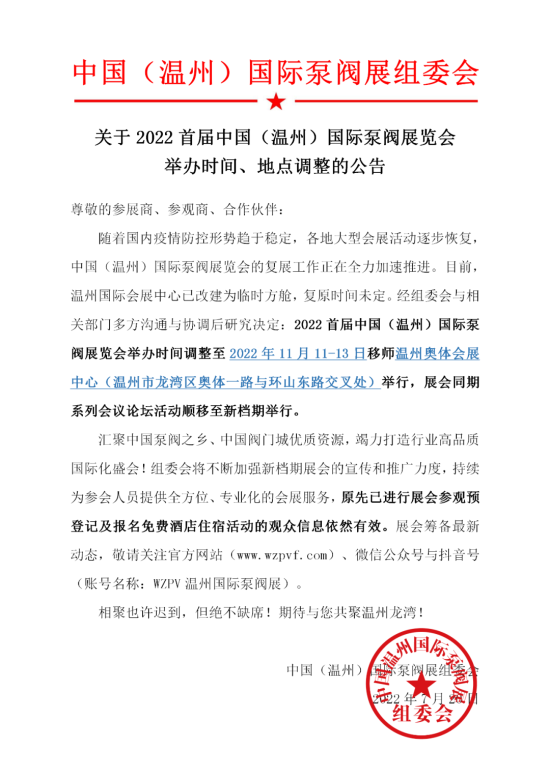 Dear exhibitors, visitors and partners:
With the domestic epidemic prevention and control situation stabilized and large-scale exhibition activities gradually recovering, the resumption of the work of China (Wenzhou) Int'l Pump and Valve Fair is accelerating at full speed. At present, Wenzhou International Convention and Exhibition Center has been converted into a temporary mobile cabin hospital with no determined time limit. The organizing committee and relevant departments decided after communication and coordination: 2022 China (Wenzhou) Int'l Pump and Valve Fair will be held in Wenzhou Olympic Sports Convention and Exhibition Center (intersection between Olympic Sports 1st Road and Huanshan East Road, Longwan District, Wenzhou) during November 11-13, 2022, along with concurrent conferences and forums.
Gathering high-quality resources from the hometown of China's pumps and valves and China Valve City, we strive to build a superior international industrial event! The organizing committee will continue to strengthen the publicity and promotion of the new phase of the exhibition, and continue to provide participants with a full range of professional exhibition services. The pre-registration of the exhibition and registration for free hotel accommodation are still valid. Please pay attention to the latest development of exhibition preparation on the official website (www.wzpvf.com/en), WeChat official account and TikTok Account (account name: WZPV溫州國際泵閥展).
The meeting may be late, but never absent! We look forward to meeting you in Longwan, Wenzhou!